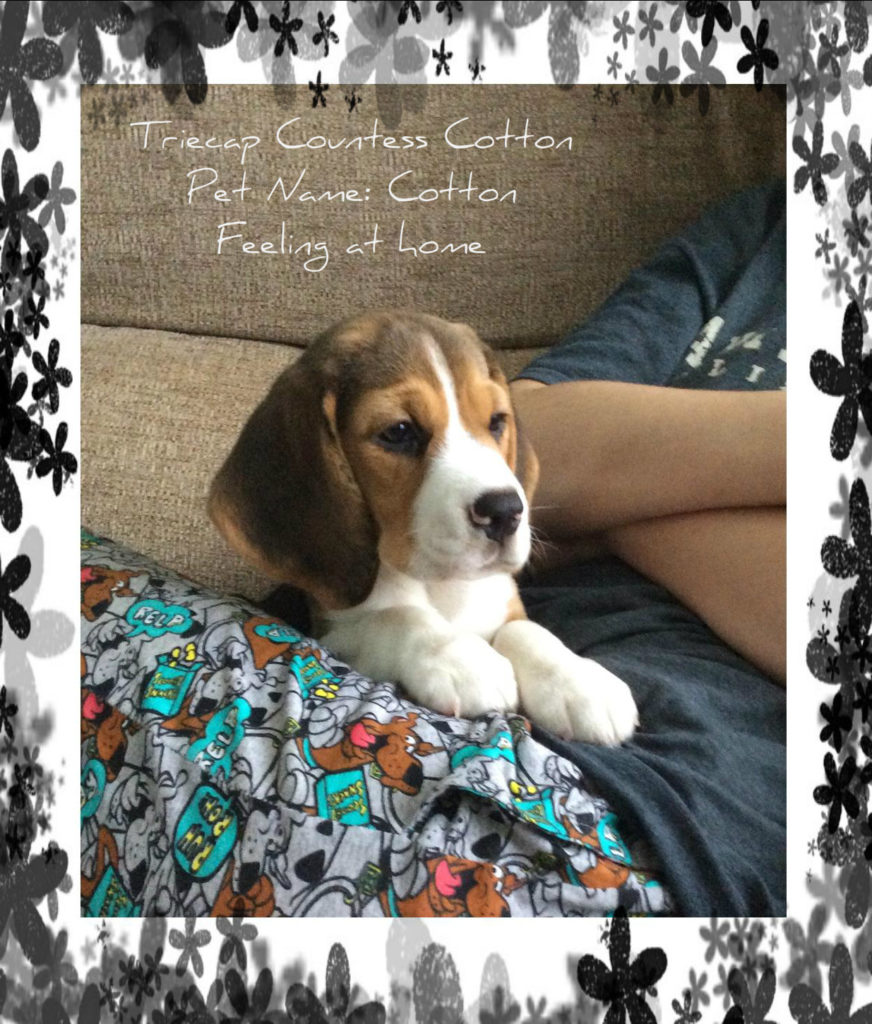 "Once we had decided a beagle was the dog for us, we started making enquiries with some breeders and in so doing contacted Patrice. Who invited us to visit her and the hounds, it was a great experience to meet someone with real passion, knowledge and honesty for the beagle breed. We had found the right breeder and decide to stay with Patrice and wait for a litter to arrive. Since the arrival of the litter and subsequent visits, the advice and guidance from Patrice has been first class and really helped prepare us for the arrival of Cotton. The quality provided by Patrice really shone out when we took Cotton to the vet, who stated that she had never seen a pup in such good condition and with high quality documentation from a breeder before. All we can say is that Patrice provides a service that puts you totally at ease and fills you full of confidence knowing that your pup will be a loving little beagle. Thank you, Patrice".
Adrian & Beverley Jones – 14th October 2017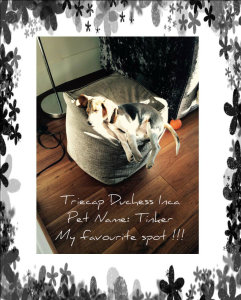 My wife and I came across Patrice and her website after a flurry of searching back in December and fell in love with the beautiful dogs that she has reared over the years.  When I first spoke to her, Patrice's warmth and love for the dogs came through in abundance.  She cares and she wanted to make sure that we did too.  That was really important for us, because it signalled that our puppy was starting life in a loving and happy home.  Our instincts were proved to be correct, when we met Patrice in person.  She is a lovely woman and it was immediately clear how well she was looking after the puppies, and indeed her own dogs.  Patrice was knowledgeable, down to earth and helpful with all the questions that we had to ask.  She was also very professional, when it came to the administrative aspects, which are very important too.  We are very thankful for all these points, but most of all for bringing a wonderful, albeit very mischievous, dog into the world, who has already made a massive difference to our lives.  Our Tinker is a joy, and we have much to be thankful to Patrice for that.
Tony Mattson &  Elaine Humphreys  and Tinker – 7th February 2015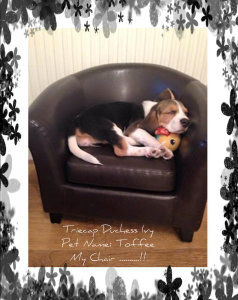 When I found the Triecap Beagles webpage on the internet, I immediately felt a pang of excitement! The website was by far the best I had seen from any other breeder; it was professional, yet personal too.  I felt drawn, and upon seeing a litter was due early November, I sent an email to enquire.  After a few emails and phone calls, it wasn't long before my husband and I were off to Hertfordshire to meet Patrice.  It was immediately clear how passionate and protective Patrice is and her knowledge is second to none.  Upon meeting Patrice, we realised it wasn't just about us wanting a puppy, it was for Patrice to ensure we were a good fit; as individuals, as a family and if our house and lifestyle would accommodate a puppy.  This was quite different from our expectations, however, made us realise this breeder was different from most, and we liked it.  Patrice told us, "this isn't about profit, it is ensuring the puppies go to loving, secure homes that are able to care for a puppy".  We found this statement refreshing in today's world!  Patrice's knowledge is astonishing, and one thing that really impressed us is how quickly Toffee adapted to her new home.  This is all down to Patrice and her wonderful techniques.  We had been advised that the separation process from mum and the other pups would start before 8 weeks, and it was on our 3rd visit that we were able to see the puppies had their individual pens.  They were all next to each other, but gaining their own independence and it worked wonderfully as Toffee's first night with us went without a hitch, no crying, no howling, she went into her pen and was happy and settled.  It was truly amazing and very different from stories we have heard from friends/relatives whose puppies howled all night in a new home!   I could write so much about our experience with Patrice, but to sum it up, if you are looking for a Beagle, you have found the perfect breeder!Danielle, Lee, Oliver & Freya Newman (and of course, Toffee our gorgeous girl) –
Mr & Mrs Newman – 4th February 2015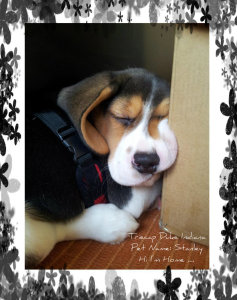 Well, I suppose you could call us 'experienced ' Beagle owners, as we have had our boy Archie for several years now. So when looking for another Beagle to add to our family of pets we wanted an experienced Beagle breeder…and along came Patrice!   Patrice is truly a professional breeder and her 'tell it like it is' personality made us feel totally reassured that she knows about Beagles and not just her own…she knows Beagles…period! When looking for a puppy (in particular Beagle) there are numerous websites and advertisements 'claiming' they are Beagle breeders but don't be fooled…!!! If you are in search of a Beagle puppy (and are fortunate enough to be reading this testimony) then look no further, this is the Breeder to use.  We have our little man Stanley now and it was a delight to be able to see his development from the moment he was born through weekly updates, photographs and regular visits. Patrice welcomed my husband and I into her home, gave us lots of information and also offered support in our preparation of welcoming a new puppy into our home.  
Triecap Beagles are beautiful dogs and Patrice…….            well she's just the 'cherry on the cake'! 😉   
Leanne & Ben Watkins – Gale   –  30th January 2015                  ….and…'Super' Stan (woof, woof)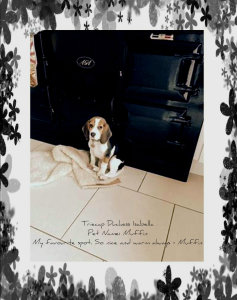 Patrice, thank you. I heard horror stories from other first time pup mums that I would face a puppy who would cry all night with separation anxiety.  Not with your Triecap puppy, though, since you weaned the puppies nicely and crate trained too, which also many other first time puppy mums envy.  You even trained me with each of our visits on the Dos and Don'ts which has made for a very happy family and puppy!  We can't thank you enough.  Our newest addition, Muffin, has settled so nicely into our family and she is so very sweet natured and sociable too.  Lucky us!  Love,  The Hope-Bells    –    Mrs & Mrs E Hope-Bell – 30th January 2015.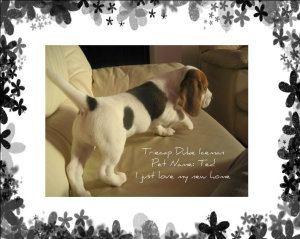 "Patrice is a very passionate and professional breeder.  Our experience of getting Ted was so personal and informative. We were given all the information we needed to make sure that firstly, we were getting the right dog for us, and secondly making sure we had the best knowledge to care for our new puppy.  It was great to see him from such a young age and to meet his family.  Even after we got Ted home we always knew that Patrice was at the other end of the phone for any questions we had small or silly that they may be! We couldn't be happier with our puppy.  He has a brilliant temperament, personality and everyone comments on how beautiful he is.  We have an amazing puppy from an amazing family and we couldn't be happier!" Tina xx     – Luke & Tina Edwards 26th January 2015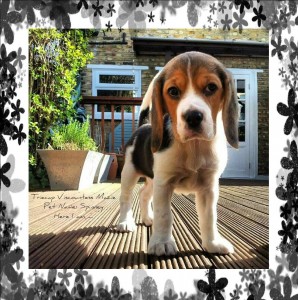 We looked for a beagle breeder for 5 months before finding Patrice and Triecap. From the outset she was incredibly professional and passionate about her dogs. We felt that Patrice was assessing us as much as we were evaluating her at the initial meeting, because it is so important for Patrice to place her dogs with the right home.  Her set-up in her home is perfect for the welfare and early socialisation of the puppies. This means that when our puppy came home she was used to a wide range of domestic noises, loved being in her crate and was already ahead with toilet training. Aside from the practical love, care and knowledge that Patrice provides before, during and after the purchase of the puppy, the quality of the dogs is a cut above other breeders. She has an established history of breeding quality dogs that achieve highly in the show and pet world. The markings of our puppy are fabulous and her head shape, to ear set is just what we were looking for. There are many other beagles in our local area, but you can tell a Triecap beagle, and people always comment on her. I would not hesitate to purchase from Patrice again and would highly recommend her to anyone. I'm just trying to convince my husband that we need a second one….before Patrice stops her dog breeding! – Dr Samantha Altendorff 7th September 2014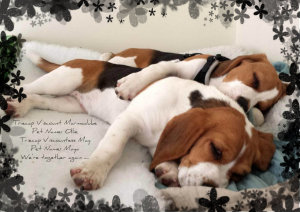 Dear Patrice, 
Thank you very much for seeing us so quick on Sunday concerning adopting one of your lovely puppies. We all were very impressed with the very high standard of all the puppies and conditions, everywhere was spotless and a great place in the yard for the pack  All the puppies looked beautiful we fell in love with them all, it was lovely to see Honey the mother.  She still looked in great shape and looked a very pretty and a lovely beagle even after given birth to 7 puppies.  We were all very nervous meeting you but you made us feel very welcome as soon as you opened the door.  The way you told us all about your self and showed us your credentials and spent time going through the folder with all the information about the puppies was very impressive, enjoyable and very informative. Meeting the pack was fantastic and great fun.  To see the father Prince Zaphar and the rest of the family Lord Oscar and Ruby and the rest of the pack was a real lovely experience.  All your beagles are in such lovely condition with lovely markings all perfect Tri colour beagles with beautiful coats what we all noticed was the white was so lovely and white,  You can see why they do so well at the shows.  We have made a good choice of puppy, but more important we have made an excellent choice of breeder, some one who is very passionate on the care of all there beagles and not some one just to make money.  Looking forward to our second visit and we will be bringing the girls next time they were very disappointed they missed out.  The picture you sent of Honey and the puppies 7 days old was fab!!!     Puppy will be going to a very caring and loving family home we can't wait. 
Thank you again for your time.  All very excited for our next viewing.
 Peter and the rest of the gang. Mr & Mrs P Coldham – 21st January 2014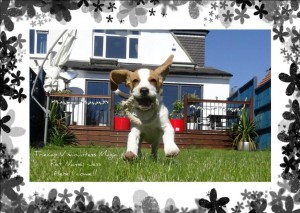 'Hi Patrice – We would like to say thank you to Patrice. Throughout the process of getting our puppy she was extremely friendly, knowledgeable and professional. She gave us endless good advice and made sure we had everything we needed for the best start in our puppies life. We were very happy that she wanted to also make absolutely sure that her puppies were going to good, safe, stable home as well. We would highly recommend her above any other breeder and would absolutely go back to her for another addition to our beagle household. Her excellent care of the puppies at an early age has shone through as our puppy settled in to her new home very easily, and is just the most adorable, intelligent and sweet natured dog we have ever met. Obviously we are highly biased, but many other people have said so too. Patrice is simply excellent, and a very wonderful person to deal with'. – Mr & Mrs D Delicata 25th July 2014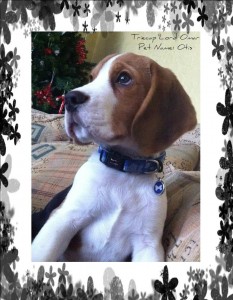 "He's everything we hoped for"  Mr & Mrs G Roberts May 1012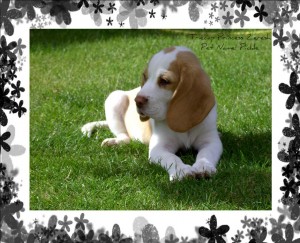 "Is a very social dog loves people and other dogs a lot" Mr & Mrs S Hart June 2012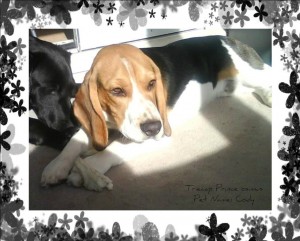 "Is an absolute delight to have around" Miss M Netts September 2009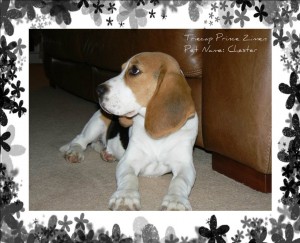 "Has the loveliest nature being really friendly with both people and other dogs and is full of life"
Mr K Montogue  October 2009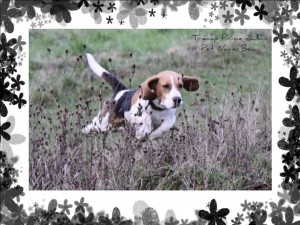 "Has a wonderful temperament and gets so well with the Kids"
Mr D Shields October 2009